So the month of April was a bit of a rollercoaster for me.  I started the month with a quick trip to Oakland to see part of the A's opening series vs Seattle.  Then a few days later I was off to spend a week in Chicago.  A lot of people have that one "dream" city that they would love to visit.  For most it's some place like New York or Paris.  For me it was Chicago.  Three years ago I got to spend about a day and a half there and go to two Cubs games.  It wasn't enough time.  So, when my friend and I saw that the A's were going to Chicago for a series with the Sox, we booked our flights and hotel and hit the road.
It started off a little rough.  Not so much for me, I got there on time and with little hassle.  But my friend Geoff had to take a different flight and got stuck on the tarmac for three and a half hours.  This wouldn't have been an issue except for the fact that we had tickets to see the Improvised Shakespeare show at i/O that night and because of the delay he was going to miss the show.  When I heard this I sprung into action and managed to get a hold of a former student of mine, Daniel, that lived in the city (and who is also a fan of improvisational comedy) and was able to finally meet a student of mine face to face.  The show was great and it also gave me a chance to meet a new favorite comedian of mine, Liz Thompson of How to Liz fame.  *swoons*  Liz is as adorable in real life as she is on youtube.  And as cool as it was to get to meet her, the real highlight was getting to meet Santa (her Mom).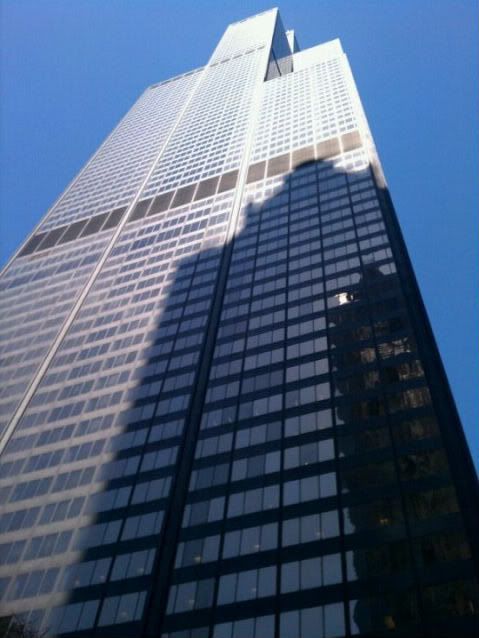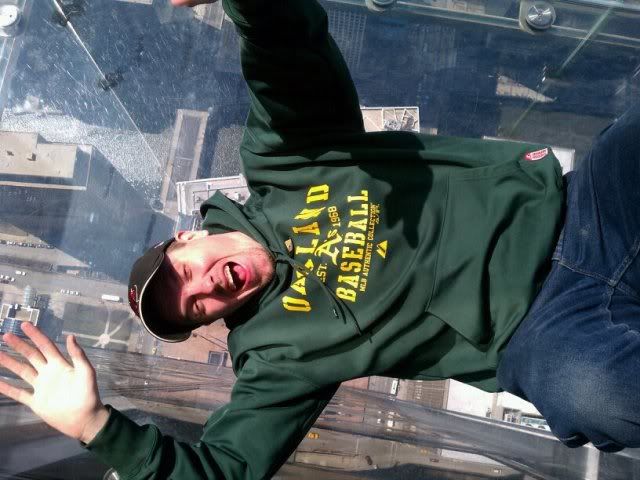 We bummed around the city for a couple of days, over the weekend, doing the typical touristy type stuff and some non-typical touristy type stuff before the A's series started on Monday.  We got lucky the first night, it was half price ticket night and we managed to score some pretty good seats next to the A's dugout.  The really cool part is that Geoff used to live in San Diego and worked at an establishment that was frequented by some of the Padres players, including Kevin Kouzmanoff, the current A's 3rd basemen.  As the pregame stuff on the field was winding down, Geoff managed to get Kouz' attention and went into the "you probably don't remember me but I used to work at…".  Kouz looked at him and said, "Karaoke guy?"  Geoff was in 7th heaven the rest of the game, especially after he got Kouz to sign his jersey.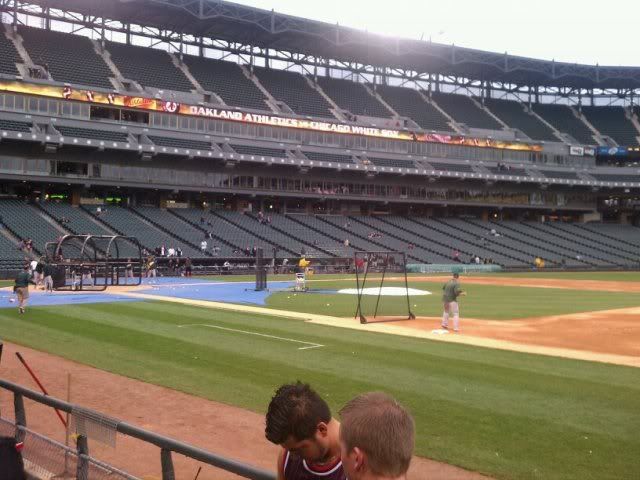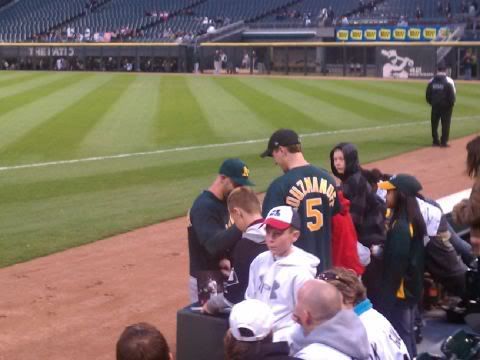 We ended up seeing three really good games (they all went into extra innings…the last one causing us to think we might just miss our flight) and had a blast.
The less than happy part of the trip started when I woke up on our last day and started feeling the (what I thought was) a cold coming on.  So the entire flight back my sinuses were backed up and the changing pressure did nothing to help.  Turns out it was a sinus infection that knocked me on my butt for five days after we got home.  The only good thing was that I missed Black Friday as it was happening.
There's lots that can, and has, been said on the topic and the nice thing about fighting this illness is that most of what I would have written has been already written (and better) by two other authors.  You can stay on this site for the first one.  Tony Guerrera, someone I have yet to meet in person but have gained a healthy respect for, wrote a rather insightful post a few days after the incident that everyone should take the time to read.  His more recent follow up is also a must read, if for nothing other than his outline of what tangible action we should take.  The other author is one that I have mentioned before and one that I highly recommend adding to your RSS reader, the Poker Grump.  His three posts on the crisis (which can be found here, here and here) are well thought out and right on the money.
The tendency we have (as humans as well as as poker players) is going to be to focus on the immediate, the short run, the fact that we got screwed over and can't engage in a game that we love in a manner that we choose.  But this is a much bigger issue than we might care to admit.  While Republican's, for the most part, hold a belief in big government nanny-stateism that gives them the "right" to dictate what you can or can not do, the Democrat's have an equally bad track record in this regard.
So what do we do?  Again I'll point you to the Grump:
"The only way to get the freedom to play poker genuinely secure in the long term is to achieve a broad consensus not about poker specifically, but on the general principle that we will be a truly free society, meaning one in which we do not seek to control each other's conduct. With the caveat that there be no use of fraud or force, people should be free to expend their money, time, and energy however the hell they choose to.
…
Let me put this bluntly, and in a way that I know in advance will raise hackles: If you voted for either Obama or McCain in the last presidential election, or for either Bush or Kerry before that, you're now getting what you deserve, and, moreover, what you asked for.
…
The solution is to elect people who agree that individual liberty is the paramount value, to be restricted as little as possible consistent with ordered society. There are precious few such people holding elected office these days. Ron Paul comes the closest of anybody I know of. When he was running for president, part of his stump speech was to tell the crowd, "I don't want to run your life!" You never heard those words from Obama. (And if you did, you would know it was just another of his lies.)"
****
I wrote this before leaving town (yet again) this weekend for another trip to Oakland to watch the A's take on the Rangers over the weekend.  Yesterday would have been memorable enough without the news that came down later.  You see, I actually got my first MLB foul ball.  Bottom of the 7th, Daric Barton (a player I've watched here in Sacramento countless times and like watching bat) managed to foul one off into the second deck behind home plate.  I saw it coming and decided that discretion was the better part of valor and let the ball hit 2 seats away from me.  It pinballed around a bit before stopping, where I picked it up and put it in my bag.  😀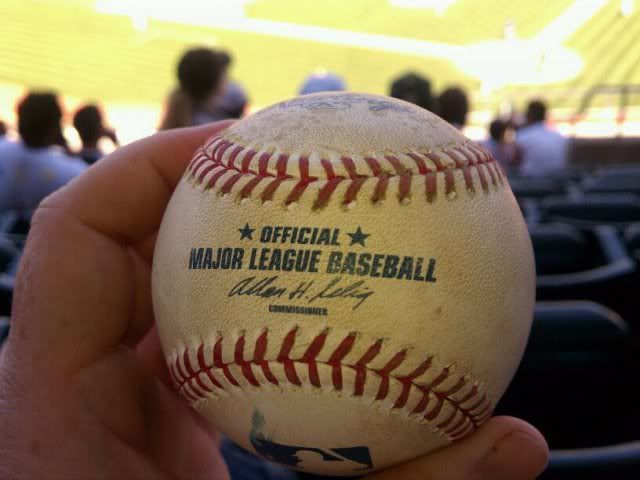 Mission accomplished.
********
Cross posted at teammoshman.com where you can feel free to comment.